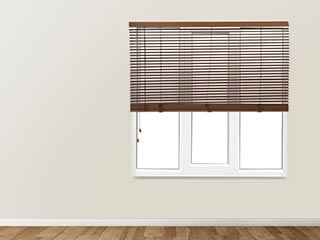 As far as the classics go, it's hard to beat Venetian blinds in what they offer and the familiar look they bring. Originating over a hundred years ago, Venetian window treatments have become a staple for certain décor looks, and you can find them in many types of properties, both residential and commercial. For Los Angeles, Venetian blinds can offer a simple and effective, as well as an aesthetic, window covering solution perfect for the home or office spaces.
Blackout Venetian Blinds
A great way to ensure proper sleep is by securing the windows against external light sources. That means the sun as well as streetlights. With blackout Venetian blinds, you eliminate outside light by utilizing the overlapping quality of the vanes. Covering a slight part of their neighbors, the blinds prevent light from entering unless partially opened. Venetian blinds for Los Angeles bedroom windows make for an excellent choice that helps you keep a healthy sleep routine day to day.
Motorized Venetian Blinds – Smart & Wireless
Utilize the latest in remote control window covering technology with motorized Venetian window blinds that you control with a handset or your smart devices. With Wi-Fi connectivity, motorized Venetian blinds offer a fast and simple method for controlling levels of sunlight in any room, from practically anywhere. Conveniently order the blinds to open or close according to your needs at the time without any extra steps required. Motorized Venetian blinds in custom sizes ensure complete protection and total convenience daily.
Los Angeles Venetian Blinds Installers Providing Free Quotes
To learn more about the different designs and features you can get with your custom Venetian window blinds, schedule a consultation with our professionals. We provide free estimates on all types of blinds, Venetian or other, and would love to sit down with you at your Los Angeles home or business to see which motorized window coverings will suit you best. Book an appointment today!