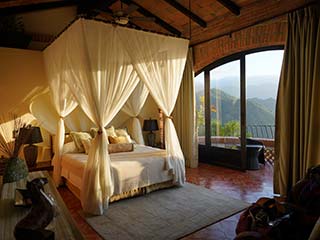 To darken bedrooms or other spaces, you'll want to consider blackout curtains. The thickness and opacity of the fabric make it impossible for prying eyes to glimpse inside from the outside. Blackout window curtains help you maintain privacy in Los Angeles homes, offices, and any other space where you want these room darkening window treatments installed. Perfect for bedrooms, blackout curtains offer you a great way to add some elegance and functional usage to your windows. They let you benefit from privacy and complete sunlight blocking whenever you want.
How Blackout Curtains Help You Sleep
The reason blackout window coverings and draperies work so well in bedrooms is simple. Opacity determines how well light can travel through different materials. With blackout curtain fabric, you can completely block light from streetlamps or the sun from entering the room. This works really well for bedroom windows since you need your sleep process to remain optimal day in and day out. Blackout curtains on Los Angeles bedroom windows will ensure you don't get woken up by the first light of dawn. This excellent addition to bedroom windows helps you get a better rest each night, which helps you have a more productive day.
Motorized Window Curtains, Blackout Solutions
For a convenient solution, you can't go wrong with motorized draperies. Watching your window coverings move across the curtain rod has a nice and soothing quality to it. Not to mention, it's very effortless. Say you got into bed and forgot to draw the blackout curtains so they serve their purpose properly. Well, with motorized draperies, all you need to do is push the button. Blackout window curtains with motors and smart Wi-Fi remotes let you even use your phone. For bedrooms or other parts of your property near Los Angeles, blackout curtains motorized offer fantastic options at relatively low costs too.
Best Window Curtains For Privacy
The way our eyes work is by catching light that bounces off things and creating a visual image inside our minds. Needless to say, if the light gets absorbed by non-reflective material (like the fabric of blackout curtains), you won't have the capability to see through. That's why blackout window curtains make for such great solutions for privacy reasons. Blackout draperies provide a much-needed shelter from harsh sunlight, as well as peeping Toms and prying eyes in general. This makes them great not only for bedrooms but also for office windows. Blackout curtains can help you stay focused on work or have meetings in privacy without anyone outside the room spying on you.
Local Source For Blackout Curtains Near Los Angeles
For cheap prices and high-quality materials, you're welcome to turn to our professional interior design experts. We custom make blackout window curtains for homes, business establishments, and windows of all sizes and shapes. The opacity of room darkening window coverings makes them excellent for living rooms, bathrooms, and any other space where you want privacy fully. Looking to add blackout curtains to Los Angeles area properties? Get in touch with us and schedule a free estimate provided in person!