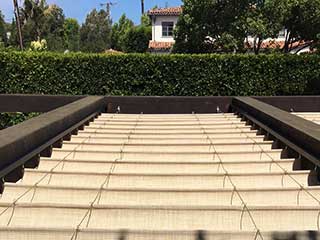 Having a patio is a great way to get the most out of warmer weather and if you live in a region with lots of sunshine, you'll want to spend as much of your time as possible enjoying long summer days and cool summer nights. A patio area is also a great place to entertain your guests for a barbecue or just a quiet night with drinks. Being outdoors doesn't mean you want to relinquish your privacy so if you feel your patio is overly exposed, call Los Angeles Blinds & Shades to the rescue. We have a great range of patio shades to give you the privacy you want when you want it.
Sun Shades For Patios
Spending time outdoors on a hot summer's day in Los Angeles doesn't mean you want to burn to a crisp. Our team of consultants can come to your home and give you sound advice on choosing the best patio shades that will not only compliment your home but add value as well. Having outdoor shades means you get to enjoy your patio all year round.
The Perfect Shades For Your Poolside Patio
Summer is all about the great outdoors and the family pool area is where all the action is happening. At different times of the day, the sun can make it hard to relax by the pool so why not add some waterproof outdoor shades? Enjoy being by the pool and some privacy with outdoor shades that don't mind getting wet.
Get All Decked Out
The cooler mornings in Los Angeles are the best time to enjoy a coffee on your deck before the summer heat hits. Your relaxing morning time doesn't need to be postponed because of a little bit of rain with an excellent range of deck awnings from Los Angeles Blinds & Shades. Waterproof exterior shades are also a great option to make the most out of your outdoor home extensions. These outdoor shades will extend give you extra space that out can use in any weather and they look great too.
Motorized Patio Shades
If you've got a large patio area, raising and lowering patio shades can be a bit of a chore which is bad news, considering the household patio is supposed to be a place to relax. Installing motorized outdoor shades will make your life easier. You can control the amount of sunlight you let through with the touch of a button and without putting down your cocktail. Los Angeles Blinds & Shades will come to your home for a free consultation to ensure you get the best motorized exterior shades that will give your home an added touch of luxury.
No Patio Is Too Big, Or Small
If you live in Los Angeles and the surrounding areas, you know that houses come in all shapes and sizes. So do patios. Along with a great range of standard-sized patio shades, we can also offer custom patio shades. Our team will come and measure your patio for the perfect fit of custom outdoor shades in colors and materials that will complement your home's exterior. Our range includes roll up shades for outdoors that can be custom-fitted to any patio. Our custom outdoor roller shades are made from quality materials that are durable and beautiful.
Patio Shades Near You
At Los Angeles Blinds & Shades, we've got you covered for any type of outdoor shades you need for your patio. Call us today to book a free estimate on waterproof patio shades or any other type of covering for windows, sliding doors or other.