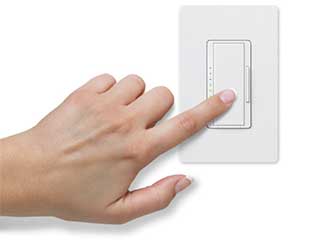 When you choose motorized window coverings, you'll benefit from great energy efficiency and decor at the same time. Lutron shades offer a high-quality solution that combines innovative technology with top-of-the-line aesthetics and design quality. Pick the perfect combination of features and designs to suit you, with access to a fantastic selection of materials and features. Motorized Lutron shades provide utility options that make it incredibly easy to use your window coverings. Wall switch dimmers and WiFi remote control give you total control over the position of your Lutron motorized shades at any time, and you'll never have to do more than press a button.
With these technologically advanced motorized window coverings from Lutron, these shades are the best way to improve your Los Angeles home or workplace. If you need Lutron motorized shade installers near Los Angeles, our team is ready to help. We offer free estimates on all custom products and services, so you can easily explore the full range of Lutron shade products.
Sheer and Blackout Motorized Window Shades
Convenience comes with all this functionality, but you'll get all the advantages of high-quality window covering designs as well. Lutron's motorized shades are available in every type of material, from sheer to blackout, so you can set light levels within the room very easily. If you're in the market for motorized room darkening shades for bedrooms, then a set of Lutron motorized blackout shades is the solution you need. Looking to make the most of natural sunlight without getting lots of glare? Then Lutron sheer shades are the perfect way to diffuse sunlight, giving you a great natural look without sacrificing comfort.
Blackout and sheer shades are designed to provide different solutions for different parts of the property. Thanks to the amazing range of Lutron custom window coverings that we provide in the Los Angeles area, it's easy to find the product that suits you. Never compromise on quality or comfort when you pick Lutron's motorized shade solutions.
Los Angeles's Leading Lutron Shade Source
There are lots of options to consider when choosing motorized shades for your property, and we understand how important it is to get this right. Our experts in the Los Angeles area are ready to help with a free in-person estimate and consultation. Our team understands what you need, and works hard to get you the best price on Lutron shades in Los Angeles. We have an amazing selection of options, and our wide range of designs is at your service. Get in contact with us today to schedule your free estimate appointment.