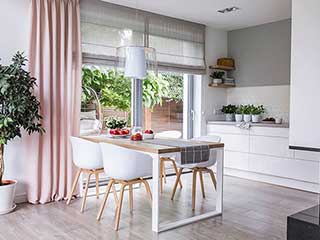 Our company is known throughout California for our wide selection of high-quality blinds and shades. Whether you're looking for window treatments for residential or commercial properties, our products can be a perfect match. When you get in touch with us you have the option to choose from a wide variety of beautiful and classic options. This includes state of the art products that offer improved thermal efficiency and light filtering capabilities.
Fashionable and Functional
Our high quality window blinds and shades are made by the industry's leading manufacturers. You have a broad range of colors, designs, and fabrics to choose from, all of which can enhance the décor of any room. If you have a particular look in mind already, that's great! Our team can create a custom design that will truly give your property the unique look you're going for.
A Choice For Every Need
Our wide selection of custom blind options can give your home or business a truly polished look. They will also give your family or employees the privacy and comfort they deserve. Our products can be used to shield occupants from unwanted UV rays. They can also ensure that just the right amount of daylight flows into the room. Of course, you'll be able to adjust them throughout the day as you see fit. There are several different types of light controlling blind options to choose from. You don't have to keep raising and lowering the shades to moderate the light exposure of the interior space. For example, there are ones that deliver a complete blackout. Another option is darkening shades that reduce sunlight input without creating a pitch black environment.
Made-to-measure and Easy-to-Use Products
If you have particularly high windows or oddly shaped ones, our custom made motorized roller shades are an excellent choice. They also work great if you simply want to give a room a cool and functional look. We can fit them to the exact measurements of your windows, which means no excess light will shine through from the sides. Being able to use a remote control or simply a wall switch to draw the blinds isn't just a matter of convenience. The products with timed closing and opening settings can also be a great security benefit.
Happy To Answer All Your Questions
As you weigh your options, schedule a no-charge consultation with a member of our professional team. Our experts will be able to advise you on the best product for your specific needs. Our team here at Los Angeles Blinds & Shades would be more than happy to come to your place of business or to your home. Our representatives will present you with a wide selection of window treatment options and consult you on the benefits of each and every model. Make sure you inquire about the 5-year warranty that comes with all our products. We offer free color samples and a 100% customer satisfaction guarantee on every purchase.
Give Us a Call Today!

Custom Made Products

High-Quality Materials

Free Consultation Appointments

Professional Installation Services