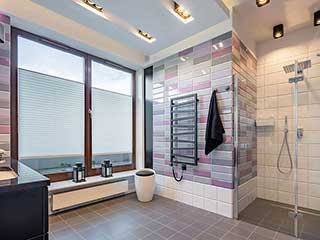 Cellular shades may soon become a basic modern home interior décor feature. For once, they're built with a complete suite of configurable and customization features. Their cutting-edge design and ergonomic structure create a modern technological effect. This effect allows them to trap air and reduce heat transfer. Each horizontal panel is creatively planned to form a honeycomb-like pattern. When viewed sideways, this pattern reflects the product's concept of a high-technology theme.
The Perfect Choice for High-tech Homes
Many consider this type of window covering a smart home-ready window feature. It can be configured to connect wirelessly to a smart home platform. The cellular shades and their individual slats are made of premium sheer fabric that creates a subtle cascade of various hues and tones. These custom blinds are ideal to use in homes and office spaces. As they're custom made to fit over glass windows and doors of any size and shape.
Excellent Thermal Efficiency
Their additional insulating qualities are a great benefit that can actually save you money in the long run. Why make your HVAC unit overwork during the hot summer months or the cold winter season? Let these excellent window treatments reduce its workload by preventing the conditioned air from escaping. The hot air will be trapped inside the honeycomb-like pattern, a.k.a the cells, these shades create. That means it won't seep away through the windows, which will force your air conditioning system to continue working to make up for it.
Let Our Experts Help
Cellular window shades come in all sorts of colors and design patterns, and it can be hard to pick the right ones for your home or office space. That's why you should get in touch with our experts here at Los Angeles Blinds & Shades and schedule a free consultation appointment. Our products are the best price options for modern design interior décor and fixtures that are fit for today's smart home living. Count on us to find the perfect product to suit both your preference and your budget.