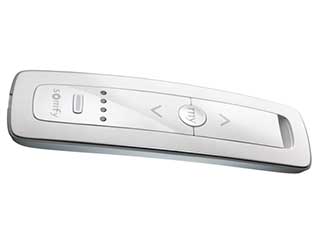 New window treatments with remote controls can add a lot more than functional technology to your property. With the right combination of designs, motorized blinds, shades, and even drapery can offer different rooms wonderful décor as well as advanced utility and sunlight diffusion options. Our Somfy blinds installers in Los Angeles give customers a variety of choices for shading solutions that they can add to different rooms. With motorized shades, rolling shutters, and various other options, you can maximize efficiency while improving aesthetics and creating exactly the décor you want. Whether for a home or a commercial space, Somfy shading solutions have plenty to offer.
Remote Control Blinds and Window Shades
Having the ability to simply push a button to control your window treatments is very fun, but also time-saving. You can order your motorized blinds, shades, or drapery to open or close according to the current need, and walk away afterward. You can control motorized blinds from a huge distance and with Wi-Fi wireless window treatments integrated with your smart home system, from practically anywhere! Smartphone-controlled window blinds in your Los Angeles living room or kitchen make life easier and also add a wonderful sense of style to the area.
Rolling Shutters For Big Los Angeles Windows
Whether it's sliding glass patio doors or just big window walls, Somfy rolling shutters make for an excellent choice. These durable rolling window shutters offer you improved security with the press of a button. Rolling shutters can utilize Somfy controls to work smarter, fitting to the current time of day and level of sunlight. The added protection and durable build of motorized shutters make them great, especially for larger surface areas. You can opt for remote control handsets or smartphone app operation too.
Motorized Pergola Screens and Patio Shades
Somfy's outdoor shading solutions have something for every issue. From motorized awnings that can extend past the patio cover limit to roll-down pergola screens, sheer or dark, to protect you from harsh sunlight coming at you from the sides. Motorized outdoor shading solutions for decks, patios, and other outdoor lounge areas improve the experience and also complement the aesthetic.
Custom Somfy Shading Solutions For You
We offer all interested clients the best consultation on Somfy motorized window treatments and patio shades. Find the right combination of décor and advanced smart control technology for window blinds, shades, shutters, and more. How do you learn more about the offered products and customization options? By booking a free estimate, provide by our nearby Los Angeles Somfy blinds and shades professionals. Schedule an appointment online or by calling us!