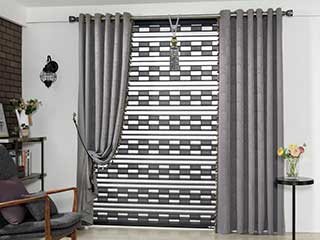 No window in Los Angeles is complete without some attractive, obscuring, and protective curtains or drapes. More than looking pretty and keeping out nosy neighbors, window coverings protect furniture and wallpaper from sunlight damage and prevent overheating. In a bed or guest room, curtains or drapes can also improve your sleep by keeping a dark – but not oppressive – atmosphere.
Discount Curtains And Draperies
You're unlikely to find more affordable curtains and drapes anywhere this side of CA than you will here at Los Angeles Blinds & Shades. Our success comes from cheap curtains, draperies, and rods, custom made and delivered to local LA addresses. If you're on a limited budget or have a lot of windows to cover, our team can still accommodate you. Free consultation visits before a custom order help ensure customer satisfaction at no extra cost.
Drapes vs Curtains
So, what is the difference between curtains and draperies? The two are often used as synonyms, but they're actually quite distinct. Curtains are thinner, airier fabric sheets that slide back and forth along their rods from hooks or rings. Curtains tend to let in some filtered sunlight and are usually just long enough to cover the window or door. Drapes are thicker, heavier window treatments that can be pulled or tied back on one or both sides of the window. Drapes are floor length, and often even trail across the floor. Drapes let in little to no sunlight. This provides complete protection and privacy, while still keeping a comfortable look.
Curtain And Drapery Rods
Both draperies and curtains need something to hang from. That something is usually a metal or plastic rod attached to the window frame or the walls or ceiling above it. If your window doesn't have one of these rods installed, you will need that taken care of before your drapes or curtains are hung. Our team offers curtain and drapery rod installation services as well as the window coverings themselves.
Custom Curtains And Drapes
Drapes and curtains can be made from all sorts of different fabrics, in numerous styles, and with all sorts of additions and embellishments. Consider blackout curtains for a bedroom; curtains made of a hyper opaque fabric that keeps out all light, allowing for totally undisturbed sleep. Motorized curtains can open and close with the push of a button, or the final tick of a timer. Color, pattern, and extra decorations like tails or curtains and valences sets are all completely up to you! Our consultants can help give you ideas to best fit the room.
The Perfect Bedroom Curtains
Naturally, blackout fabric is very important for bedroom blinds and curtains. That is unless you're an early bird that looks to wake up from the dawn's filtered sunlight. If that's the case, sheer curtains and drapes are an option as well. But the majority of people choose to keep sunlight out of their bedrooms when the curtains and drawn. That's why blackout bedroom curtains are one of the products Los Angeles Blinds & Shades specializes in making and installing. For more information about the available customization combinations, set up a face-to-face consultation appointment (for free).
Call Los Angeles Blinds & Shades For Your Window Coverings
Custom drapes and blinds are just a few weeks away for any Los Angeles home/business owner who calls our number! Get in touch with us today, and schedule a free consultation appointment at your soonest convenience.