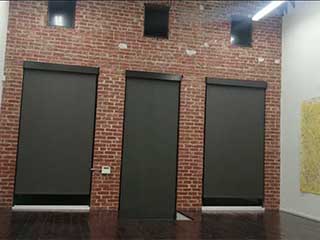 Sometimes, you want to keep a room dark without having to cover the windows with ugly shutters. For those times, blackout blinds are your best option. You can custom-order all styles and sizes of these blinds and get them installed at your Los Angeles home or business. Give us a call, and start by booking our team for a free measuring and consultation visit today!
Blackout Bedroom Blinds In Los Angeles
For most of us, bedroom light control is more important than in any other room of the house. The tricky part is that bedrooms also need to be soft and relaxing. An ugly or claustrophobic window covering can ruin your sleep. Some soft fabric or vinyl blackout blinds will keep your room dark without creating a harsh environment. If you choose blackout vertical blinds or a roller style, you can also have a very quiet opening and closing. It's hard to get more restful sleep or a more comfortable bedroom than this. Blackout blinds will also protect your blankets and wallpaper from sun bleaching, provided you remember to close them when the sun is too bright.
Blackout Blinds For Office Windows
A nice view of outside makes for an airy and relaxing work environment. Sometimes the Los Angeles outdoors can be distracting though, and when the sun is too bright you might wish there was a solid wall there instead. Adding some blackout blinds to your office window gives you the power to shut all that out whenever you need to, without giving up the benefits. Keep in mind that "blackout" means "no light gets through;" it has nothing to do with the color! Some nice tan or cream colored blinds can match your décor without distraction, and still keep all the sunlight out when you don't want it.
Stylized Room Darkening Blinds
Once you've decided on blackout blinds, you can use the opportunity to spruce the room up with a more elegant style. Blackout Roman shades with folding pleats are as much of an aesthetic boon as they are sunlight and privacy protection. If your Los Angeles office or home has a taller window, or are considering another layer of lighter curtains to go with the blackout blinds, the Roman shades style is a perfect match. Other elegant options include vertical blinds, venetian blinds, and more. Just ask us about additional styles!
Motorize Your Blinds
Automation is the way of the future. No doubt about that. Motorized blackout blinds give your Los Angeles property the most reliable protection for both your sleep and your indoor property. By putting your blinds on a timer, you can rest assured that they'll always close in time to protect your wallpaper, furniture, and rest. With a photosensor unit, you can make your blinds "smart" enough to react to light conditions on their own. You can even save yourself money in the long run by letting your smart blackout blinds keep air conditioning and home repair bills down.
Free Quotes On Blackout Window Treatments
Blackout blinds of all sorts are easier for Los Angeles residents and business owners to order than ever before. Give us a call, get a free estimate, and let us get working on the perfect custom set for you!