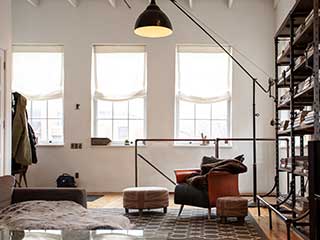 Made from top choice fabrics with a design that can mimic all sorts of traditional styles, the Roman Shades that we offer exhibit a combination of classical elegance and modern stylish flair. Their masterfully crafted pleats and valance showcase patterns fit for various themed interior décor styles. The overall design includes modern features that help make these window coverings compact, stylish, and easy to use.
A Great Choice For Your Home
The custom roman shades that we can offer you are perfect for home interior décor design and can be used as coverings for kitchen, living room, and even bedroom windows. They are available in numerous designs choices and patterns and can be built to fit windows to specification. They can give your home a beautiful look that will make guests impressed.
Excellent For Commercial Establishments
This window treatment option is perfect for restaurants, stores, and other business establishments, like offices and even fitness clubs. They're an affordable investment that's easy to maintain, which means you'll get excellent bang for buck ROI when you choose to have your windows fitted with these coverings. Let's just say that there's probably a reason they're called Roman shades. A hundred emperors and senators can't be wrong.
Consult With Our Experts
Roman shades can be a stylish solution for all types of windows, with their simple and classic design and durable materials, these window coverings are an excellent way to improve the decor of any room without spending a lot of money. Our team at Los Angeles Blinds & Shades will carry out the installation to ensure that everything is set up properly and that these products will work correctly from day one. Get in touch with us today to learn about our five-year warranty and the free color samples we provide.